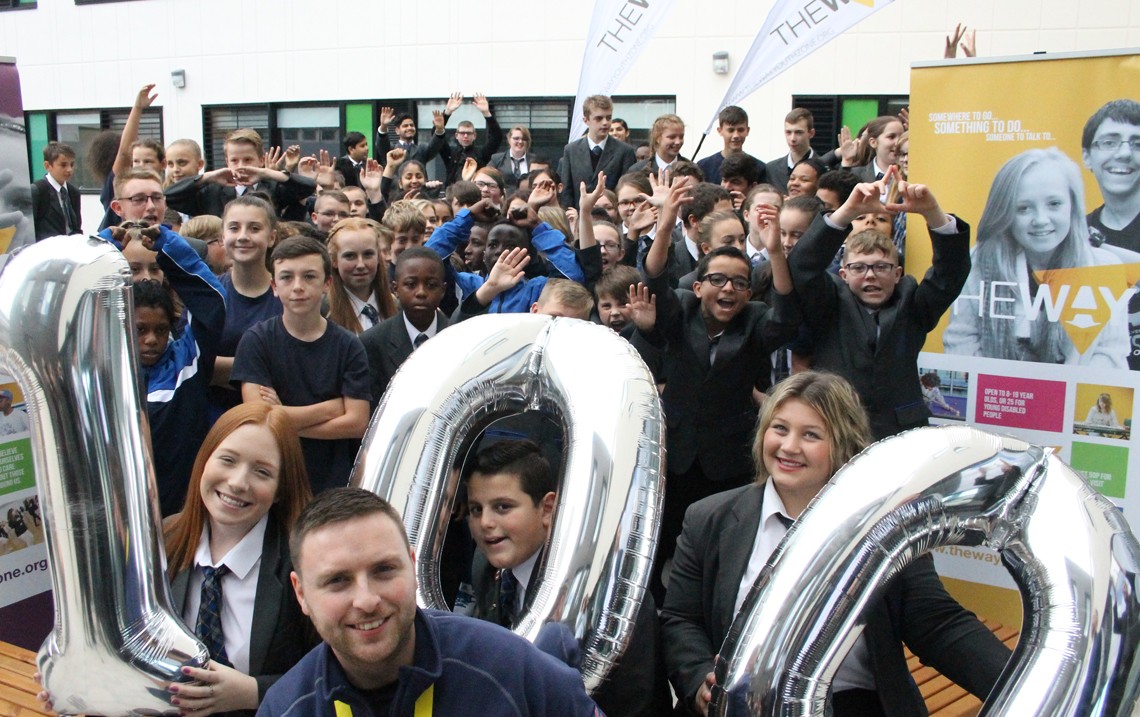 TODAY marks exactly 100 days until the grand opening of the Youth Zone and to celebrate this milestone, 100 pupils from St Matthias School became the first young people to officially sign-up as members.
Our newly recruited volunteer and Invictus Games gold medal winner, Andy Roberts from Wolverhampton joined 100 young people, to help raise awareness for the opening of the Youth Zone – a fitting way to mark the 100 day countdown.
If you want to sign up as a member click  here 'Become a Member'.
Andy, who won a gold medal for wheelchair basketball when he represented the British Army at the Invictus Games in 2014, delivered a fully-inclusive 'sit-down' volley ball session to 25 of the 100 young people. Andy also shared his inspirational life-changing experiences about serving in the Royal Engineers in Afghanistan, where six years ago a blast caused severe tissue and nerve damage in his leg with the pupils during a discussion session.
 Andy Roberts commented: "It was an absolute privilege to attend The Way's 100 day kick off and I am delighted to sign up as a volunteer. What a fantastic sight it was to see 100 young people all unite and sign up as members at The Way. I hope I can help inspire lots more young people to sign up as Youth Zone members as well as the vast number of volunteers needed to make this project the success I am sure it will be."
Ervis Cera, member of The Way's Young People's Development Group who also attends St Matthias School said: "It was brilliant to meet Andy who told us how he overcame his injury to win a gold medal. The Youth Zone is so exciting for the city and I cannot wait for it to open. I hope once the Youth Zone is open and lots more young people sign up as members so we all have something to do, somewhere to go and someone to talk to in our free time.
Today has been a fitting way to kick off our 100 days until opening campaign. It's was fantastic to see 100 excited young people all sign up as our first official Youth Zone members.
A huge thanks to the inspirational Andy Roberts whose life-story will inspire the next generation of young people across Wolverhampton, reach their full potential, grow their dreams and achieve their goals.
If you want to sign up as a member click  here 'Become a Member'.
This key milestone kicks off a number of key events leading up to the Youth Zone opening date on Saturday 16th  January 2016, which include a whole host of pre-opening events for young people and the community to preview and test out the building before it officially opens. Stay tuned to the website for details coming soon.