Can you feel it? The Jackson 4 Visit The Way Youth Zone!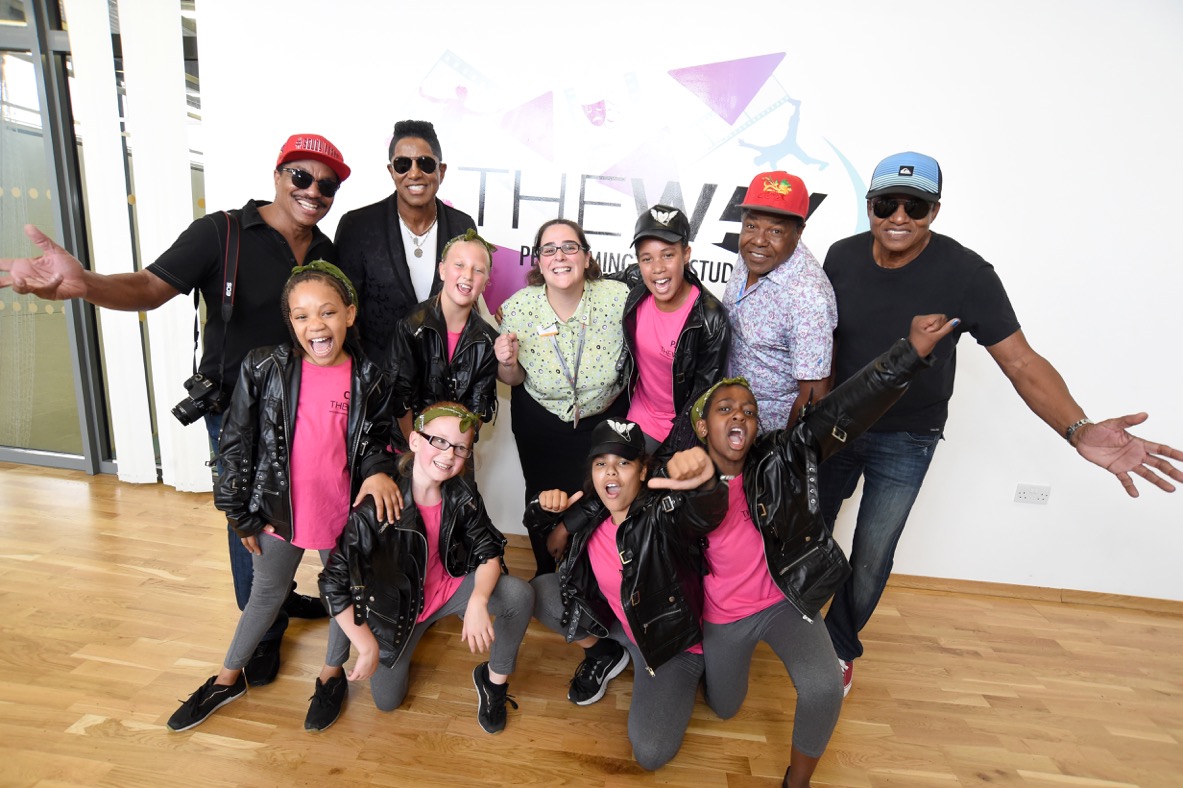 [column width="1/1″ last="true" title="" title_type="single" animation="none" implicit="true"]
MOTOWN legends The Jacksons left star-struck youngsters speechless during a show-stopping visit.
Hysteria swept across The Way Youth Zone when the superstars strolled into the Wolverhampton hub with their families in tow. Crowds of delighted youngsters were left in awe of the icons, swarming the quartet for selfies and autographs yesterday.
The brothers – Tito, Jackie, Jermaine and Marlon – were treated to a special tour of the venue, which supports young people in the heart of the city.
Tito Jackson said he was impressed by a troupe of young dancers who made moves to
a medley of songs performed by the Jackson brothers – including his tune 'Get It Baby'. He added: "It's been exciting, my first time in The Way, and I'm very excited to see the children and see how busy they keep themselves occupied in such a positive way.
"It's just a great place for kids to come hang out and just have fun, it's beautiful.
This has been a great day."
Dancer Frankie Holden was left in shock after performing in front of the stars as they clapped and bopped along to their hits. The 10-year-old, who lives in Penn, added: "It was a different experience from anything I have had. It was really good because they were all clapping. It was really nerve-wracking but really exciting."
The legends – formerly of Jackson 5 with superstar brother Michael Jackson – enjoyed a tour of the School Street youth zone,  including its dance studio, recording studio and holiday club activities.
Jackie Jackson and wife Emily Besselink, who visited the centre with their twin sons, were moved to tears when Jahni Dyer performed a rap. Jackie rushed over to Jahni and embraced him with open arms, pulling his shades from his face before wiping his eyes. He said: "Your message is brilliant, so positive."
Wolves fan Tito revealed he spent the past few days touring the region's sights with his brothers. He said:"I've enjoyed my visit for the last few days. I brought my brothers along to show them some of the things I have experienced in my earlier times here and they seem to have had a lot of fun."
A special thank you to The Way's Founder Patron Roy Bernard, who initially set up the visit!
*Article is courtesy of The Express and Star.
[/column]