See Wolves in Wolves at The Way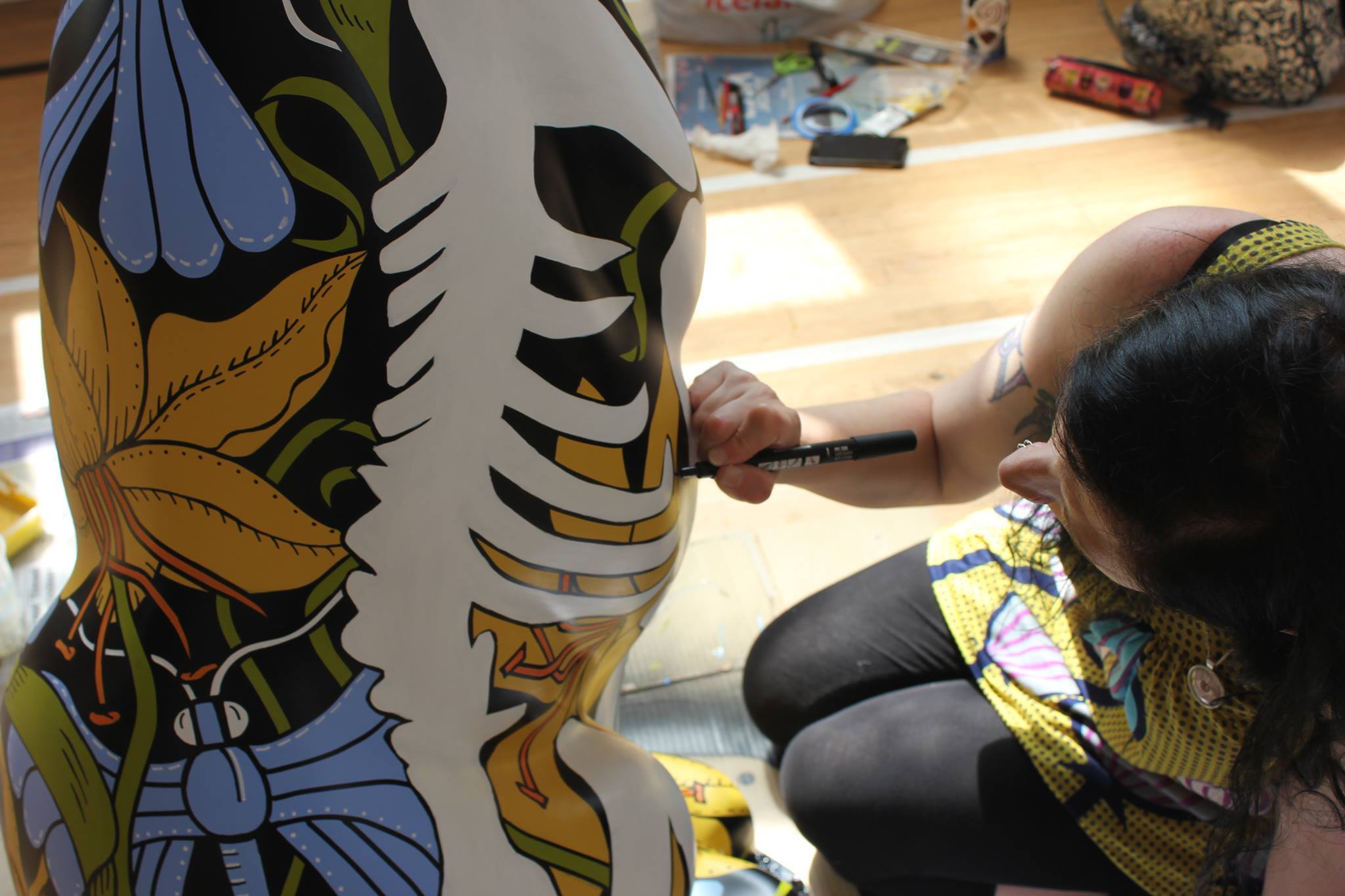 [column width="1/1″ last="true" title="" title_type="single" animation="none" implicit="true"]
[/column]
[column width="1/1″ last="true" title="" title_type="single" animation="none" implicit="true"]
Meet Kiyiya the wolf at The Way Wolverhampton Youth Zone over the summer.
Kiyiya is a Native American name which means howling wolf. He was designed by Jo Burgess, she said:
"My wolf was to depict a skeleton, which symbolises the public image of us as a dead/lifeless city, but if you look under the surface you can see the bright exotic flowers and butterflies which symbolise the vibrant, wild and creative nature of the people of Wolverhampton, showing the true nature of the city. It is a period of growth and regeneration of our city, creativity is blooming everywhere and I wanted to recognise and promote this with my design. The words on the chest are a description of the character of a wolf, the city and of all of us who belong to the city. Come Run With Us!

I am particularly pleased that my finished wolf was chosen to be placed in the fantastic The Way Youth Zone it is so the perfect place for Kiyiya….the centre is dedicated to providing kids with access to positive experiences and they encourage the creativity and expression of all the kids there, which is exactly what I wanted to promote with my concept."
It's part of the largest public art event held in the city ever running until 24th September. 30 wolves have been placed in different locations across the city centre.
Want to find them all? Just download the map here:
If you want a physical copy of the map you can get one at The Way or at Civic Centre reception, Wolverhampton Art Gallery, Central Library and WV Active Central.
Official sponsors of the project are HeadStart Wolverhampton, Hilton Main Construction, Learn Play Foundation, Mander Centre, Marston's Wolverhampton Civic and Historical Society, MoveCorp, Talent Match Black Country, NHS Wolverhampton Clinical Commissioning Group, University of Wolverhampton, Yoo Recruit, West Midlands Fire Service, Wolverhampton Wanderers FC, Arena Theatre and Enjoy Wolverhampton.
The project is led by the Outside Centre which is a local disability arts charity working in partnership with the City of Wolverhampton Council which is providing project management support. It is anticipated that through sponsorship and proceeds from the post-event auction of the wolves sculptures there will be a surplus which will be donated to the Outside Centre and the Mayor's charities (Central Youth Theatre, LGBT Network, Interfaith Wolverhampton, Acorns Children's Hospice Trust, Alzheimer's Society Black Country, Sickle Cell Care and Wolverhampton Street Pastors).
[/column]
[column width="1/1″ last="true" title="" title_type="single" animation="none" implicit="true"]
[/column]