The Way win The President's Cup 2017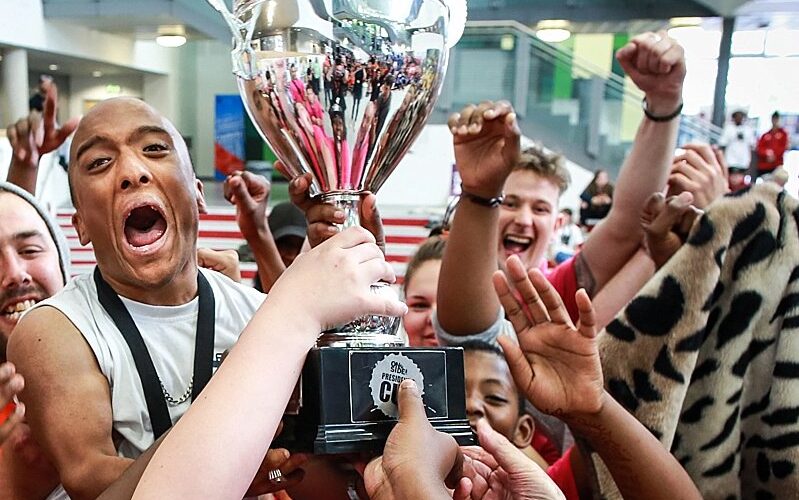 [column width="1/2″ title="" title_type="single" animation="none" implicit="true"]
[/column]
[column width="1/2″ last="true" title="" title_type="single" animation="none" implicit="true"]
[/column]
[divider type="1″]
[/divider]
[column width="1/1″ last="true" title="" title_type="single" animation="none" implicit="true"]
Young people from Wolverhampton travelled up to Carlisle Youth Zone to win a national competition called The Onside President's Cup.
Over 300 people came together and formed Youth Zone teams from Bolton, Blackburn, London, Manchester, Oldham, Wigan, Wirral, Wolverhampton and, for the first time, Chorley and Warrington to compete for The Onside President's Cup, Senior Cup and Junior Cup.
The annual event was supported by Sir Norman K. Stoller CBE KStJ DL and was hosted by Carlisle Youth Zone on Saturday 27th May.
The victorious Wolverhampton Youth Zone team completed in non-traditional games and activities between Senior, Junior and Ability teams, which included dodgeball, wheelchair basketball, climbing, gym challenges, art, a dance off and more!
Young people from The Way were delighted to win both the Senior Cup and, the overall prize, The Onside President's Cup. Cheryl Garvey, CEO of The Way Youth Zone, said:
"We're delighted that young people from The Way won The Onside President's Cup, it's such a massive achievement for them. This is only our second time in the competition and to win is just an incredible feeling. More importantly, every young person taking part had lots of fun, made new friends and created some lifelong memories."
OnSide's opening manager Phil Marsh, who co-ordinated the projected, said:
"Once again the President's Cup proved to be another brilliant event with hundreds of young people doing themselves and their Youth Zones proud. I want to thank everybody at Carlisle Youth Zone for being such brilliant hosts and helping put on such a spectacular event."
Sir Norman Stoller CBE KStJ DL said:
"The President's Cup seems to just get bigger and bigger every year and I am incredibly proud to support the event. I'd like to congratulate The Way on claiming the crown but also every young person who took part and showed such endeavour and sportsmanship on what was a great day. I'm already looking forward to next year!"
The Way Wolverhampton Youth Zone is a purpose-built facility for the city's young people aged 8 – 19 and 25 with disabilities. Every night, The Way gives young people somewhere to go, something to do and someone to talk to.
Photo credit: Chris Foster Photography – chrisfosterphotography.com
[/column]