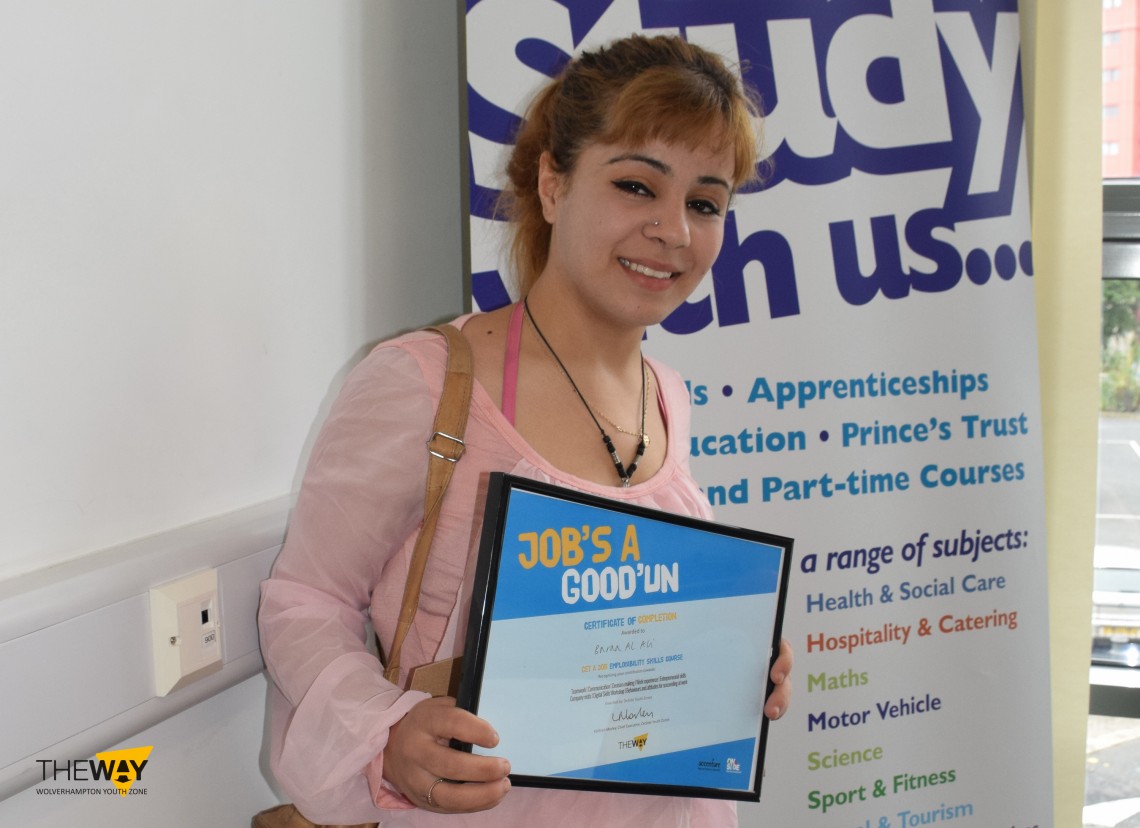 Baraa Al Ali is the first young person to secure employment thanks to an exciting new scheme at The Way Wolverhampton Youth Zone called Get A Job.
Launched in July 2017, The Way Wolverhampton Youth Zone's Get A Job programme helps young people, aged 16 – 19 years old, get into employment, apprenticeships and training. The course is completely free and offers help and support in writing CVs, gaining employment experience and interview techniques. Furthermore, The Way offers nationally recognised qualificiations like a Level 2 in Employability, Enterprise and Interpersonal Skills.
Our Employability and Enterprise Co-ordinator, Leonie Hudson, worked with Baraa to write a CV, improve her interview tehniques and collect references. Leonie said:
"Getting a job can be difficult and sometimes frustrating for a young person. It's really important we give them a helping hand, especially as Wolverhampton has one of the highest levels of youth unemployment across the country. We're working with local employers to give young people the access and opportunity to apply for vacancies in the City."
During this Summer's Get A Job course, a group of young people went on an enterprise trip to Marston's PLC where they experienced a showcase of Marston's House as a great place to work, a tour of Bank's Brewery understanding not only the roles available but also the grain to glass brewing experience, before getting a taste of working in a pub at Marston's Talent Academy. Baraa built a great rapport with their Talent Academy Manager, Dave Mann, and we arranged for Baraa to do a week's work experience. Dave Mann said:
"It has been a pleasure to have met Baraa and helped her get this opportunity. Baraa showed how interested she was in the work she was doing and showed great commitment and drive to succeed. I wish her every success for her future."
The following week she had an interview with a local Marston pub. The whole team at The Way was so proud when Baraa secured a job as a kitchen assistant. Barra said:
"I can't thank The Way enough. Without their help and Dave at Marston's, I wouldn't have this. Now I have a future."
If you know a young person who could benefit for our Get A Job programme go to www.thewayyouthzone.org/get-a-job or call Leonie on 01902 328290. Our next course starts on Monday 25th September and focuses on seasonal work.
GET INVOLVED NOW
If you want to get involved, learn new skills and get ready for employment you can register now. Either fill in the form or email getajob@thewayyouthzone.org.
The course usually lasts about 6 weeks. The course is completely FREE so you've nothing to lose at all.