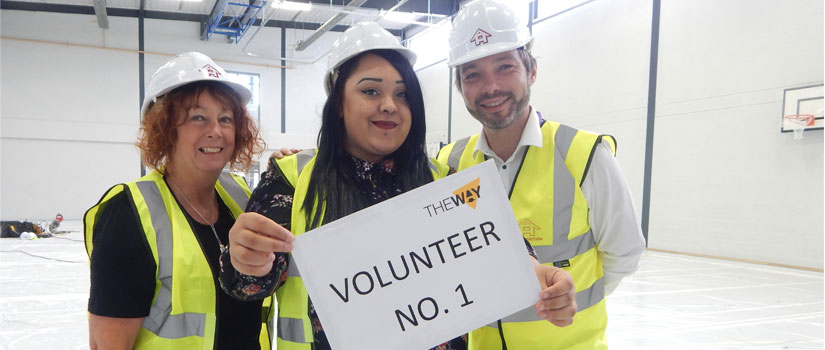 With just a few months to go until opening, we have kicked off our volunteer campaign by recruiting our first Youth Zone volunteer.
Local girl, Emma Shippey, 23, is the first of our 100 volunteers to be recruited prior to us opening in January 2016 and she was formally welcomed by Councillor Val Gibson, the City of Wolverhampton Council's Cabinet Member for Children and Families at the Youth Zone site yesterday.
Emma has grown up in the Bilston area of Wolverhampton and has a degree in Psychology after graduating through Founder Patron's, University of Wolverhampton.
Volunteer, Emma Shippey said: "I've always had a passion for helping people. At school I was a peer mentor and I have done voluntary work before at a local community organisation. I remember being younger myself and knowing how much I would have benefited from having someone to talk to and having somewhere to go and something to do. The Way seemed like a fantastic opportunity for me to progress my career and finally give something back to Wolverhampton. I now want to show young people that it doesn't matter about your background, your ethnicity or your gender as we are all equal. I want to show young people that no matter what hard ships they may face, they can come out of it the other side and be happy and successful."
Councillor Val Gibson said: "The Way Youth Zone promises to be a fantastic facility for our city's young people. Volunteers will be the lifeblood of the new centre and I'm delighted that Emma has shown her support by becoming the first volunteer to sign up. I'd encourage anyone else who is interested in supporting The Way to find out more about the opportunities on offer."
Andrew Walker, Volunteer Manager at The Way said: "I am delighted Emma has joined us as our first of many volunteers. Volunteering is a brilliant way to meet new people, develop new skills and give something back to your local community. At The Way we value the fantastic work our volunteers undertake for us – we couldn't do it without them!"
Volunteer roles from Youth Workers, Gym Instructors, Sports, to Inclusion Workers and Catering Assistants are all available to apply for on our vacancies section.
If you have the energy, drive and enthusiasm to be part of this exciting work coupled with the skills required to make a difference to the lives of the young people, please read more and apply today.
For more information contact The Way's Volunteer Manager Andrew Walker on Andrew.Walker@thewayyouthzone.org