Wates Giving donate £30,000 to support young people in Wolverhampton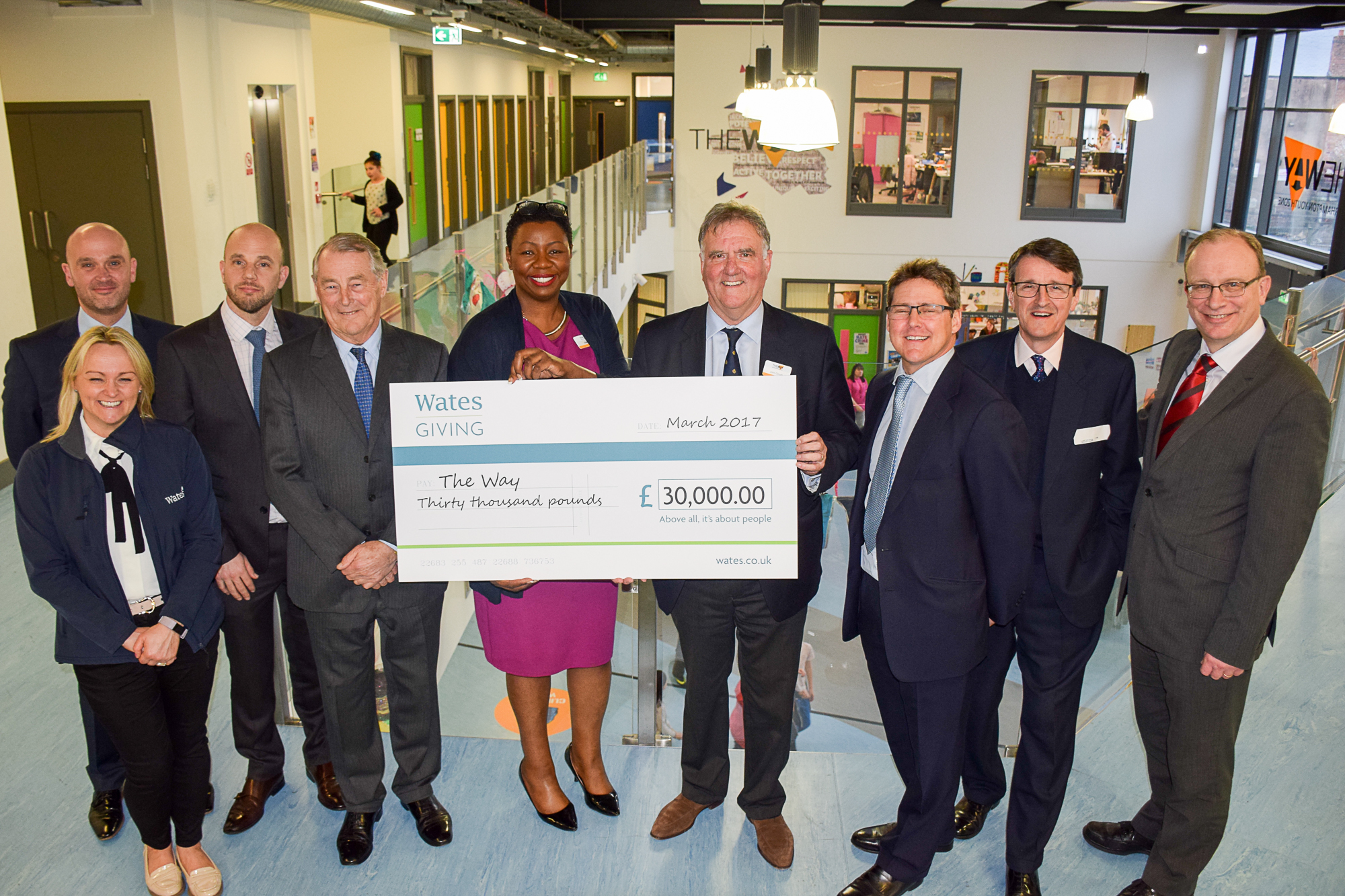 [column width="1/1″ last="true" title="Press Release" title_type="single" animation="none" implicit="true"]
Wates Giving has donated £10,000 per year over the next three years to The Way Youth Zone to help young people in Wolverhampton. Stewart Reid, Angela Eardley, Stephen Tracey, Andrew Wates, Andy Wates and Jerry Wright presented Cheryl Garvey, John Gough, Kevin Manning and our young people a cheque on Tuesday 21st March.

Wates Giving is the charitable programme set up by the Wates Family, owners of the Wates Group, in 2008 to empower initiatives that make a real difference to society. Wates Giving aims to invest around £1 million every year in charitable activities which benefit communities for the long term.
Andy Wates, Chairman of The Wates Giving, said:
"We believe that business has a key role to play in the community by blending wealth creation with social responsibility. Wates Giving is a charitable programme that provides the means for the Wates family to make a positive impact by empowering communities where the Wates Group works."
The Way Youth Zone is something to do, somewhere to go and someone to talk to. It offers a safe and supportive environment for young people from Wolverhampton.
Chief Executive Officer at The Way, Cheryl Garvey, said:
"We're delighted to be part of a family of social projects across the region that are supported by Wates Giving. The Way is funded by the unique partnership of the pubic sector, the private sector and by young people themselves. Without the support of programmes like Wates Giving we wouldn't be able to continue our valuable work."
Open seven days a week, The Way provides sports, leisure and training opportunities to young people aged between 8 and 19, and up to 25 for those with a disability. The £5.5 million facility boasts an indoor climbing wall, four court sports hall, boxing gym, gym, 3G floodlit pitch and more. In the charity's first year, over 4,500 young people from across Wolverhampton became members.
[/column]