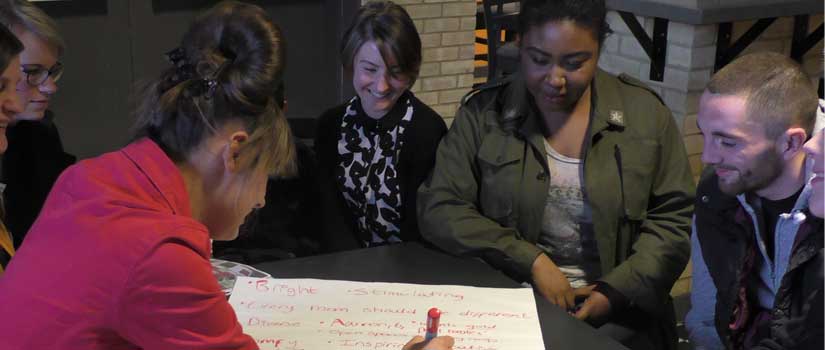 Wolverhampton's young people are continuing to have their say in the city's new Youth Zone – The Way – this time deciding on the interior features of the high class youth facility.
The next step in the development of The Way saw members of the Youth Board join other local youngsters from organisations; "Changing our lives", "YMCA" and "Catch-22" at Molineux Stadium in Wolverhampton to consult one another regarding how they would like their Youth Zone to look.
Everything from the colour schemes of the walls to the style of furniture throughout the building – ideas for interior designs were all suggested by the young people.
Motivational words on the walls as well as waterproof furniture were just some of the creative ideas the young people came up with.
Wolverhampton Youth Zone named 'The Way' is a purpose-built facility for the city's young people aged 8 – 19 and 25 with disabilities. The Youth Zone charity, will be located on School Street in Wolverhampton, and is expected to open in January 2016.
Once open it will offer a multitude of activities for young people to partake in, such as sport, fitness, dance, arts, music, media, enterprise and wellbeing and self-improvement. The state-of-the-art facility will boast a high spec music room, a 3G pitch, enterprise media suite, climbing wall, multi-use four court sports hall, cafe, dance studio, gym, cooking area, general recreation area and much more.
This stage of the Youth Zone development follows on from the Topping Out Ceremony – to celebrate the erection of the Youth Zone's roof – which saw One Direction superstar Liam Payne attend last week.
Engaging young people in the development of The Way is something the charity prides itself on. A Youth Zone for the young people, designed by the young people.
David Barton, Youth and Engagement Manager commented on the importance of involving young people in all aspects of The Way.
He said: "The Youth Zone is being built for the young people of Wolverhampton. With that in mind its essential Wolverhampton's young people have their say in all aspects of the facility as they will be the experts in terms of choosing the right elements which will work for the rest of the city's young people."
Lesley, a Young Leader for local Wolverhampton charity 'Changing Our Lives', has been part of the design team and she commented on the importance of involving young people in the process:
"It is massively important we as young people have our say. The Way is being built for young people so it must reflect how young people want it. If it doesn't no one will use it because they won't enjoy it."
You can watch a highlights package from the event and hear more from Lesley below: